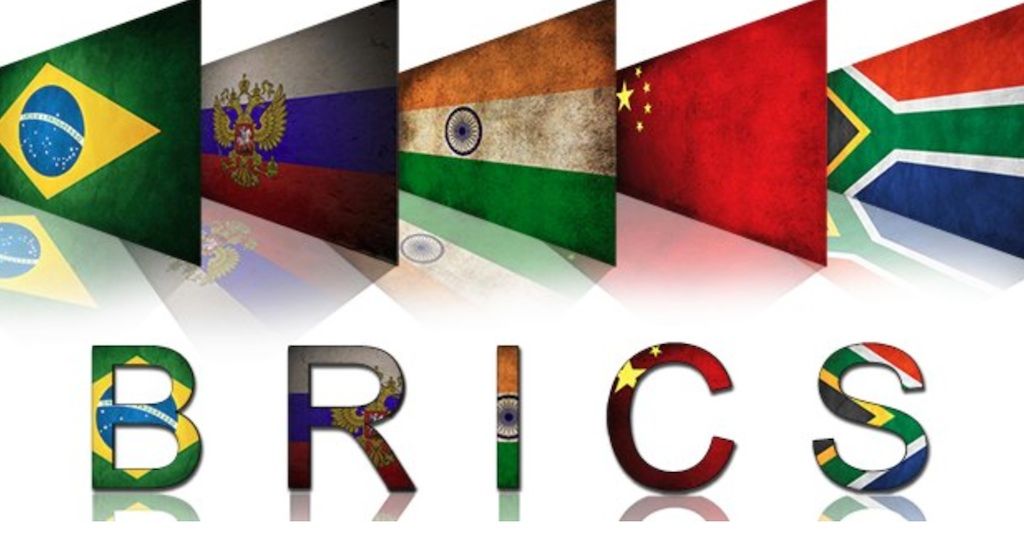 BRICS: Brazil, Russia, India, China, South Africa
This is from the blog The Radio Patriot:
Why the Globalists are Terrified of Trump's Relationships with BRICS Leaders
Is it starting to make sense now as to why the Left began the propaganda campaign via the Russia Narrative back around 2014-2015? Why they label everything they don't like as "Russian Disinformation"?

The Deep State knew this day would come. They knew Putin knew about their malevolent activities in Ukraine. Russia witnessed the US use their power to take over Ukraine via Colour Revolution in 2014, and cause mass unrest and civil war that continues to this day. The Deep State knew that if an outsider like Trump got into office, that the allegations from Russia would eventually come to light, and their crimes against humanity would be exposed.

And now that I look back, Trump seems to have a stellar relationship with all the Leaders of the BRICS ( Brazil, Russia, India, China and South Africa (BRICS) nations. Who have now all come out in support of Russia and their accusations against SPECIFICALLY against the US DNC/Liberal Globalists and their biological malfeasance in Ukraine.

Let's take a look shall we.

Trump and Putin with the iconic passing of the football. Putin knows where the bodies are buried.
Trump and Xi at the iconic Forbidden City, with which outsiders are not allowed. Xi made an exception for Trump and Melania. Trump may attack China in the media, but he and Xi are very friendly. Keep in mind other countries have Deep State infiltration as well. China's actions don't necessarily represent Xi, just as much as the US' actions in Ukraine don't represent Trump.
Trump and Bin Salman, the Saudi Crown, and the iconic sword dance, only reserved for after "military victories". Trump has a stellar relationship with Bin Salman and they have completely reversed the US relations with Saudi Arabia.
Trump and Brazilian President Bolsanoro, who is incredibly red-pilled, anti-globalist, and he LOVES himself some Trump. You don't see world leaders greeting Biden like this. That's real happiness.
Trump and Indian Prime Minister Modi. With which Trump has a phenomenal relationship as well. Lots of warm embrace and true diplomacy between the two. Their friendship is well documented and widely adored. You ever seen anyone hug Biden or Obama like that?
Do we think it's a coincidence that Trump is buddy buddy with the BRICS leaders?
Source: bioclandestine.substack.com
…
Putin predicts 'revolutionary' changes
Only "truly sovereign" states will succeed after "enormous" geopolitical transformations, the Russian leader claimed
A new epoch of world history is approaching and only "truly sovereign" states will be able to succeed in the changed environment, Russian President Vladimir Putin said on Wednesday.
Speaking at a business forum, Putin claimed that "truly revolutionary," "enormous" changes would lead to the creation of a new, "harmonious, fairer and more community-focused and safe" world order. In this new epoch, "only truly sovereign states can ensure high growth dynamics," he said.
By the term 'sovereignty' the Russian president means "freedom of national development, and thus of each person individually," as well as "technological, cultural, intellectual, educational viability of the state" and a "responsible, active and nationally minded, nationally oriented civil society."
Such a state, the president said, will serve as an example for others when it comes to "the standards and quality of people's life, the protection of traditional values and high humanistic ideals."
This kind of world is in sharp contrast to the Western-dominated unipolar world order, which, in Putin's opinion, is "becoming a brake on the development of our civilization."
He accused the West of being "racist and neo-colonial," saying that its ideology "is becoming increasingly more like totalitarianism."
The president argued that despite attempts by Western elites to preserve the existing world order, the changes are "irreversible."
Putin has been discussing the end of the "unipolar" world for a long time. In his famous 2007 Munich Security Conference speech, the Russian president said that "the unipolar world that had been proposed after the Cold War did not take place." He explained that a world of "one master, one sovereign" is destructive not only for everyone within the system but also for the sovereign itself. He accused the US of neglecting the "basic principles of international law" and stressed that "unilateral and frequently illegitimate actions" had never solved any problems.
In May, Russian Foreign Minister Sergey Lavrov expressed hope that his country's military offensive in Ukraine, when completed, would force the Western nations "to stop promoting the so-called unipolar world under the dominance of the United States and its allies."
The idea of a new "multipolar" world has been discussed in the West, too, most recently by German Chancellor Olaf Scholz.
However, following Moscow's offensive in Ukraine, the West declared its intention to "isolate" Russia and imposed tough sanctions on it. Russia views these actions as another manifestation of Western attempts to "contain" it and maintain the existing world order.


Source: rt.com